Events
Friday, October 19 - ULTRA collaborator, Billy Hall, talks local food at the 3rd annual Community Food Summit
This Friday, Earth Learning is hosting the first event of the 3rd Community Food Summit, bringing together farmers, gardeners, nonprofit groups, government officials, foodies, food activists, and concerned consumers to consider the next steps in propelling Miami's burgeoning food movement forward. This event, "Community Conversations on Local Food and Urban Agriculture", will feature presentations by Charles LaPradd, Miami-Dade's Agricultural Manager, Christina Miller, Project Manager of Duany Plater-Zyberk, a prominent architecture and urban planning company, Mario Yanez from Earth Learning, and Billy Hall. After the presentations, a roundtable discussion will follow, and participants are encouraged to bring their ideas and concerns about food issues to the table. The meeting is free and runs from 4 - 8pm, and appetizers and drinks will be provided.
Click to view slides from Billy's presentation
Tuesday, July 3 - ULTRA collaborator, Emily Eisenhauer, talks climate change with local activists and residents
Emily Eisenhauer, graduate student in Global and Sociocultural Studies at FIU, and Cindy Weisner of Grassroots Global Justice met with and diverse group of about 30 local grassroots activists for the first activist conversation on climate change in Miami. Emily presented on the biophysical and societal impacts of climate change on South Florida and Cindy Weisner spoke about the recent summits in Rio and what indigenous and developing country activists around the globe are doing to raise awareness of the impacts on their communities. Participants discussed what they learned in small groups and reported back to the larger group on the connections between climate change and the issues already present in their communities such as pollution, economic disparity, health concerns, and gentrification, and expressed the need to organize and raise awareness about the unequal impacts of climate change.
Click the image below to download the workshop handout.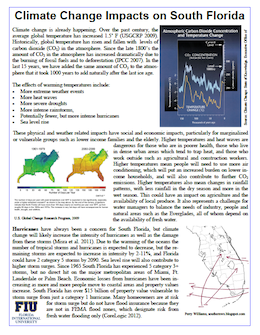 Friday, May 11 - Emily Eisenhauer defends her dissertation research proposal, "The Construction of Socio-ecological Vulnerability to Climate Change in South Florida"
Emily is one of the ULTRA-Ex research assistants and is most directly investigating the framing of South Florida's social and environmental vulnerability to climate change events. A key focus of her work concerns how vulnerability plays out along class, ethnic and racial lines.
Monday, April 23 - FIU architecture students presented climate change adaptation models
Under the guidance of professor Marilys Nepomechie, students in FIU's Master of Architecture program designed urban plans for mitigating sea level inundation over the next hundred years. Their work was presented to South Florida Water Management District officials to have a conversation about the future of Miami's socio-ecology.